10 Inspiring Women Who Fought For Justice and Won
The journeys of women throughout history and across cultures have always been challenging and filled with injustices. Many have displayed exemplary devotion to their respective fields. Today we celebrate the incredible women who have paved the way for the generations to come.
In this blog, we are sharing about 10 inspirational women who have overcome adversity, fought for justice, and won.
1. WU RONGRONG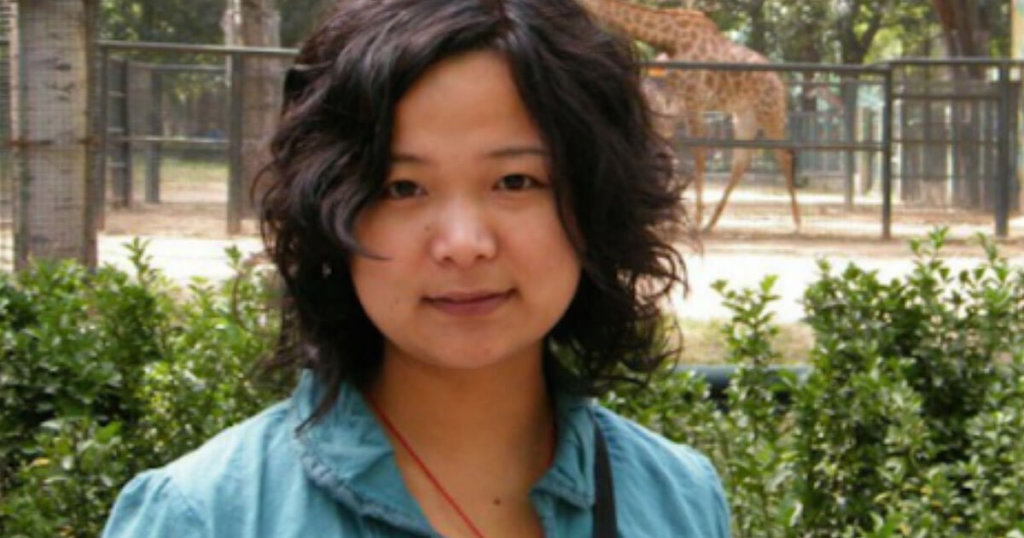 "Women face uncountable challenges in their lives. They have to speak for themselves now and stand against every injustice done to them ever. In my case, fate and chance made me a social worker and a feminist!" – Wu Rongrong
Wu Rongrong is one of China's "Feminist Five"- a group of women arrested for planning a campaign to tackle sexual harassment in 2015. The arrest coincided with The International Women's Day which led to an international outcry, garnering support from the likes of Hillary Clinton. After this, all five of them were released but "Feminist Five" remained under surveillance.
Before her arrest, she was a leader of The Women's Rights Action Group, whose bold and creative stunts have drawn public attention to gender equality and sexism. The group had shaved their heads once to protest against discriminatory higher college admission requirements for female applicants. Another time, they wore wedding dresses spotted with red ink to protest against domestic violence.
Wu Rongrong is also a social worker and registered counselor. Currently, she is pursuing her Master's degree in Human Rights Law.
2. ADHUNIKA PRAKASH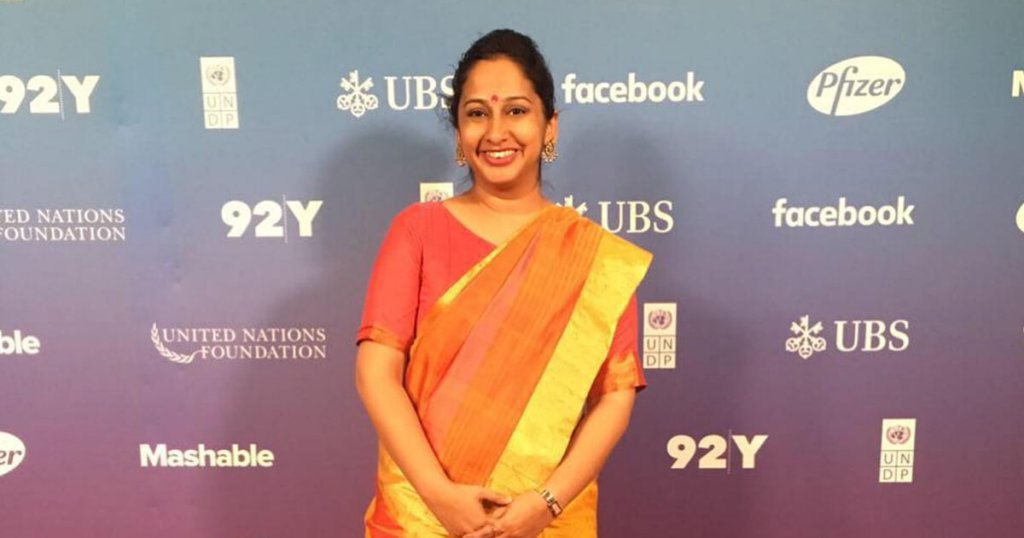 "Females are the creators of life. They deserve all the love and respect from the world. If not, then they should drag their confidence and fight for it!" – Adhunika Prakash
Adhunika Prakash is the Founder of Breastfeeding Support For Indian Mothers (BSIM) and a certified lactation educator and counselor. Prakash began BSIM as a Pune-based Facebook group where members, peer counselors, moderators, and admins help women with breastfeeding queries for no monetary benefit. It gained a lot of traction from Indian mothers and crossed over 90,000 members.
Being a mom activist she believes that breastfeeding in public isn't easy as new moms often have to endure stares and comments. There was an incident when a mother was chided by mall staff in Kolkata for complaining about the lack of a baby-care room. She was told that it should be done at home. Since then, angry Adhunika Prakash has been on a crusade to change this mindset.
This 34-year-old mother of two launched the #FreedomtoNurse campaign. The objective of which is not just to get malls and airports to open nursing rooms but to make everyone believe that there is no need for dedicated spaces for breastfeeding. We all should give nursing moms a normal life where they can go anywhere without worrying about how to feed their babies.
3. AZZA SOLIMA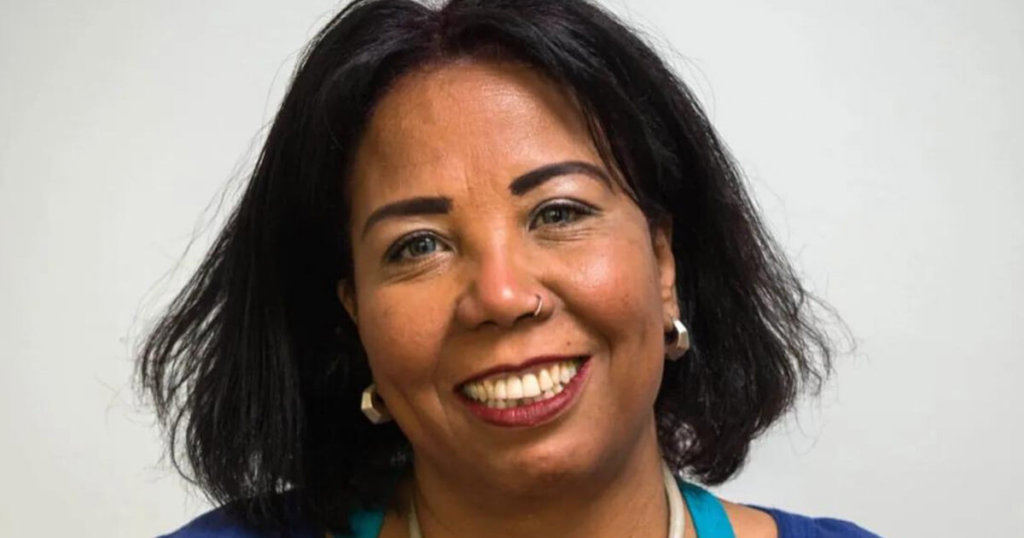 "I see corruption and injustice done to women as a mortal enemy of the young democracies. The only cure is transparency, so young ladies gather your courage and fight back!" – Azza Solima
Azz Solima is an Egyptian women's rights lawyer and Co-Founder of the Center of Egyptian Women's Legal Assistance (CEWLA) dedicating all her life to fighting corruption and injustice faced by Egyptian women in their personal space and the judicial system. As a current trustee of CEWLA, Soliman has operated numerous campaigns to raise awareness of women's issues in Egypt and to promote gender equality through legislative reform over the past 25 years.
Azza is lively, intelligent, brave, and funny. She talks about coping with being targeted for defending human rights, but she kept going because of the box-loads of solidarity messages she received for her work. Azza draws strength and motivation from her father's love for justice as well. She defends victims of torture, arbitrary detention, domestic violence, and rape. The authorities label her a "spy" and "threat" to national security. She has even been put under surveillance, targeted by smear campaigns, and harassed by security forces, and pro-government media outlets.
4. NADIA MURAD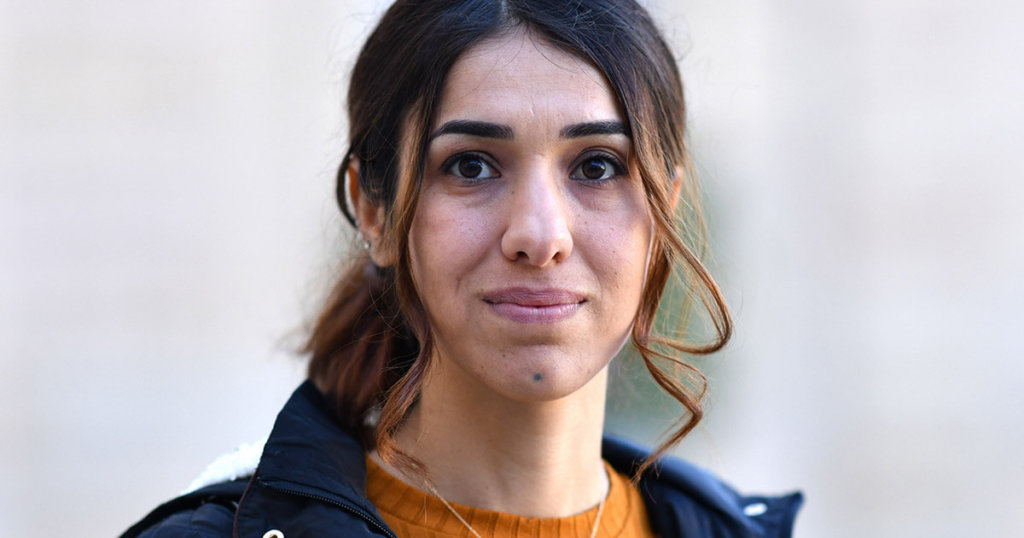 "Escaping from a living hell is not an easy task but someone had to fight against the Islamic state, so I did. Now I stand strong, lending a hand to others who wish to escape as well." – Nadia Murad
Nadia Murad is a Human Rights Activist. She received a Nobel Peace Prize in 2018 for being a leading advocate for survivors of genocide and sexual violence. Her peaceful life was brutally disrupted in 2018 when ISIS attacked her homeland in Sinjar, intending to ethnically cleanse all Yazidis from Iraq. As a result of this, women suffered greatly as victims of sexual violence. Nadia began speaking out on behalf of her community and survivors of sexual violence worldwide after she managed to escape from the captivity of ISIS.
Much of her advocacy is focused on meeting with global leaders to raise awareness of the genocide against the Yazidi people and the systemic use of sexual violence as a weapon of war. Nadia is also the President and Chairwoman of Nadia's Initiative, which actively works to persuade governments and international organizations to support the sustainable re-development of the Yazidi homeland as well as the survivors of sexual violence globally.
5. MARGARET HIGGINS SANGER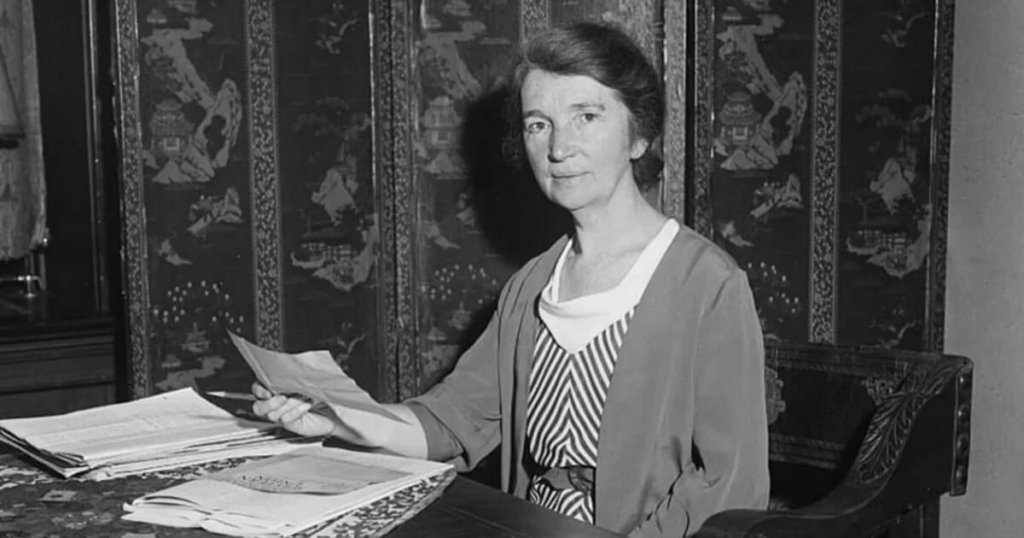 "Birth control is a fundamental Women's Right and enforced motherhood is a complete denial of it. So, it is a mission to empower women to make their own reproductive choices." – Margaret Sanger
In the early 20th century, at a time when matters surrounding family planning or women's healthcare were not spoken out loud in public, Margaret Sanger founded the birth control movements in the United States and Europe and became an outspoken and life-long advocate for women's reproductive rights. In her later life, she spearheaded the effort that resulted in the modern birth control pill in the 1960s.
Her belief was that the ability to control family size was crucial to ending the cycle of women's poverty. She majorly focussed her efforts on minority communities where there was limited access to healthcare and women were vulnerable to unplanned pregnancies. She fought for their rights and helped them survive the reproductive age healthily.
6. EMMELINE PANKHURST
"We have to free half of the human race, the women, so that they can help to free the other half." – Emmeline
Political activist Emmeline Pankhurst was a leader in the British Suffragette Movement in the late 1800s and is credited for helping women gain the 'Right to Vote' in Great Britain.
She went on several hunger strikes and was also arrested numerous times on her mission. As a result, in 1918, some women were finally given the 'Right to Vote' in the UK. Women above the age of 30, who were property owners, or university graduates were granted this right. Pankhurst even got listed in The Times Magazine in 1999 as one of the "100 Most Important People of The 20th Century" alongside the likes of Albert Einstein and Anne Frank.
7. HORTENSE LOUGUE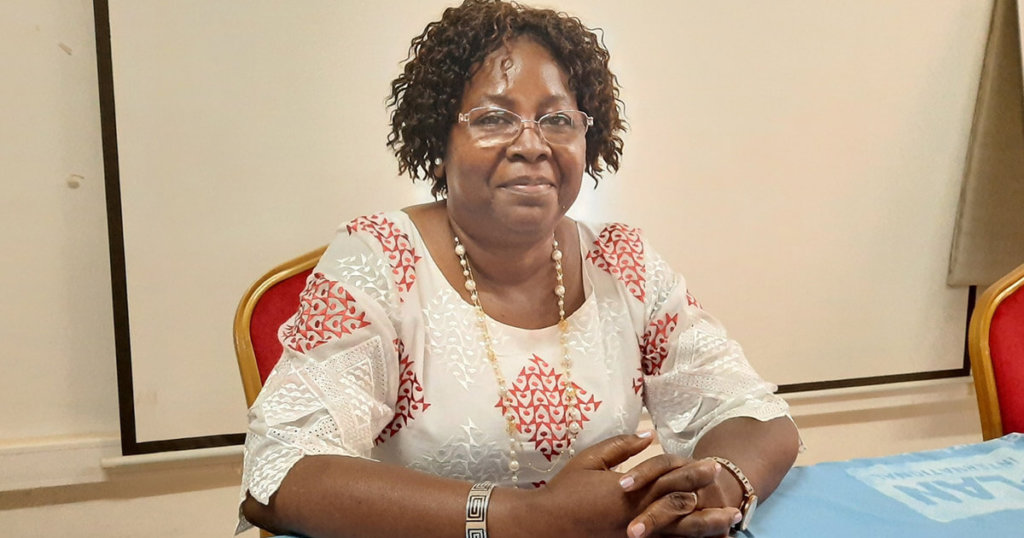 "It is believed that when men are suppressed, it is a tragedy, but when women are suppressed, it is a tradition. No girl deserves to suffer female genital mutilation (FGM), so when you give birth to a female, make sure to educate her properly!" – Hortense Logue
Hortense Logue is an Executive Director of the Association of Support and Awakening Pugsada (ADEP), an NGO focused on improving the legal status and socio-economic living conditions of girls. Having grown up in Burkina Faso, West Africa, a country filled with injustice and inequality, where girls can be forced into marriage or undergo female genital mutilation, she made herself an outspoken woman and dedicated her life to ending gender-based violence.
She herself set up multiple projects to advance education and human rights. She has been an activist, general secretary, and program coordinator in the past. She is now working with young girls and women who were forced into marriage or have suffered FGM, providing education on how to tackle these issues. Hortense leads 10 projects and through determination and perseverance, she and her whole team are committed to improving the lives of all the girls and women in Burkina Faso.
8. MALALA YOUSAFZAI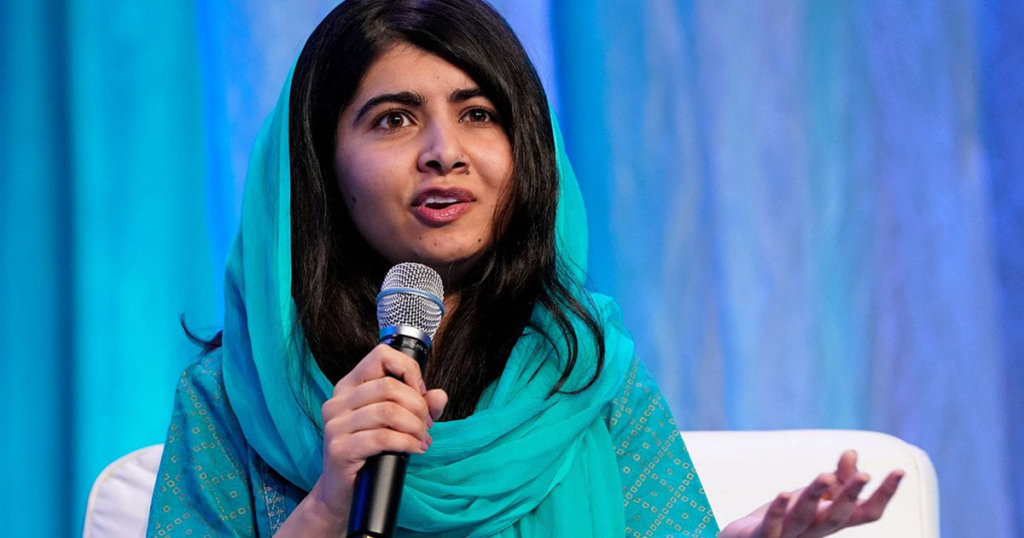 "One child, one book, one teacher, and even one book can change the world. Education is the only solution, Educate first!" – Malala Yousafzai
Malala Yousafzai is one of the most notable activists for girls' education. She is the youngest person ever to win the Nobel Peace Prize and is well-known in the international community for her diary about life under Taliban rule. Girls' schools were burned down in 2008 when the Islamic Taliban movement took control of the valley. Malala kept a diary of the events that spoke out against the Taliban's terrorist regime. Her diary was later published in 2009 by BBC Urdu. Later, an American documentary film made Malala and her cause known.
Soon the Taliban threatened her life and in 2012, Malala was shot in the head on a school bus by a Taliban gunman. In 2013, The Times Magazine named Malala one of "The 100 Most Influential People In The World". On her 16th birthday, she spoke at the United Nations. In her speech, Malala called for the equal right to education for all girls over the world and became a symbol of the cause.
9. SAFEENA HUSAIN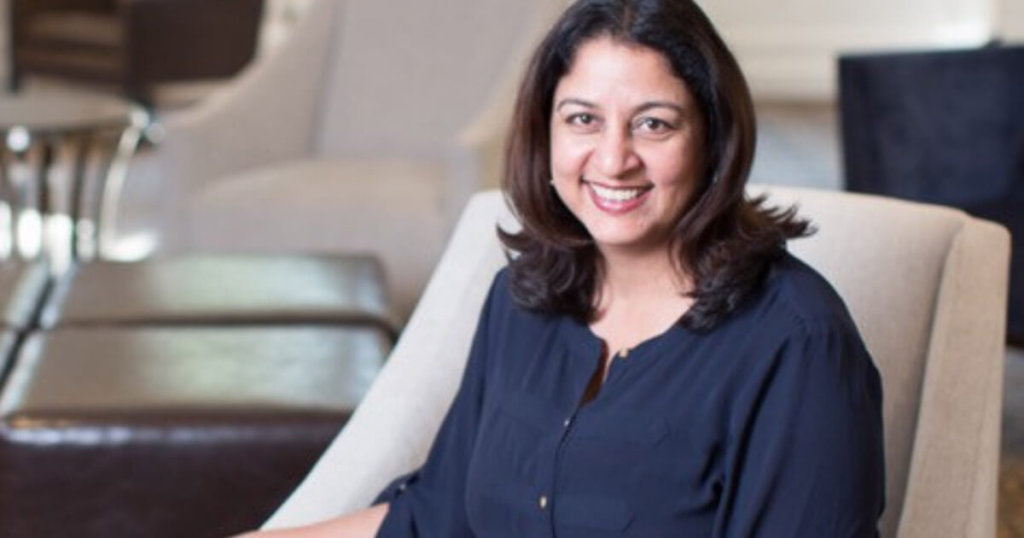 "Girls' education is the closest thing we have to a silver bullet to help solve some of the world's most difficult problems." – Safeena Husain
Safeena Husain is the Founder and President of Educate Girls, a non-profit organization that aims to enroll girls from the underserved communities of India in school to ensure a better future for them.
After graduating from the London School of Economics, Safeena headed to Silicon Valley to work at a startup. Nine months into her job, she decided to switch to US-based non-profit organization Child Family Health International where she was the CEO. She led the expansion of the organization into South America, Africa and Asia for seven years. After that, she decided to relocate to India to work on a cause closest to her heart and started Educate Girls.
Today, she leads the audacious goal to empower 1.6 million out-of-school girls in India. She believes that investing in a girl child's education transforms not just one household but the entire nation. To provide an equal opportunity to every girl child to continue their studies, Educate Girls runs the program in 20,000+ remote villages of Uttar Pradesh, Madhya Pradesh, and Rajasthan in India and has brought 11,00,000+ girls back to school to date..
10. WANGARI MUTA MAATHAI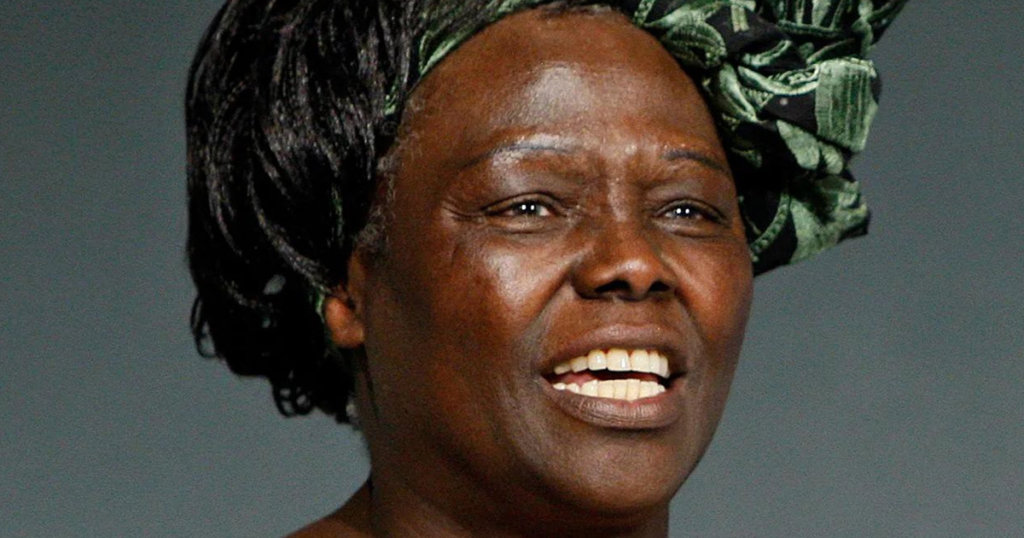 "Human rights are not things that are put on the table for people to enjoy, these are things you fight for and then you protect "- Wangari Maathai
Wangari Muta Maathai is the very first African woman to win a Nobel prize. She was a political and environmental activist whose initiative of planting trees resulted in her assisting women in her country to plant over 20 million of them. She then founded The Green Belt Movement and inspired other people in surrounding African countries to keep up the spirit of protecting the environment and planting trees.
Maathai was also the first woman in East and Central Africa to earn a doctorate. She also fought to protect the land and the rights of the people living in poverty in her country. Ms. Maathai recognized that purposeful political leadership can achieve positive social change. Her strong leadership and determination proved that a woman can be fearless and dedicated at the same time.
All these women proved that giving girls and women access to quality education and equal opportunities goes beyond solving one or the other biggest challenges faced by our generation. As the world works toward sustainable development goals, holistic quality education for girls in and out of school must continue to be one of the core priorities.
To achieve the same, we at Educate Girls are trying to bridge the gender gap in education by bringing girls back to school. We believe that if girls from the most marginalized communities are educated, they will be able to pull the whole generation out of poverty.
We work in the most underserved regions of Madhya Pradesh, Uttar Pradesh, and Rajasthan in India with a three-pronged focus – to increase the enrolment of out-of-school girls, improve retention of girls in schools year-on-year, and improve the learning outcomes of all children. Educate Girls also mobilizes communities to question the long-prevailing, perceptual biases against girls and women and encourage them to take a stand against gender inequality.
The needs of girls living in poor economic conditions are now more urgent than ever. If you wish for a bright future for them, you can help them by giving a little to help transform their lives. Donate now to educate girls!