5 Less Talked About Factors of Girls' Education
Females being more than half of the world's population should be seen as equal contributors to any kind of development. They do not only have a huge influence on the well-being of their families but they also play an instrumental role in adding to the economic growth of the nation. Women are more powerful when they are educated. Many studies have also proved that girls' education is one of the greatest investments any country could make.
Yet, we have a long way to go to ensure the 'Right to Education' for girls across the world as they are still limited by gender discrimination, economic barriers, and cultural taboos. While there is a wide range of interventions that are designed across the world to promote girls' education, there are still a few contributing factors that are less talked about to make education for girls a reality. 
1. Affordable Schooling For Girls
In rural areas, poverty is one of the most pressing factors affecting female access to education. Poor economic circumstances often discourage parents from sending their daughters to school since it involves spending on books, uniforms, stationary, etc., besides recurring school fees. This factor becomes even more influential when it comes to accessing higher education which comes with a larger cost attached. As a result, many girls lose their opportunity to learn and are forced to give up on their aspirations.
One of the ways to solve this problem is to provide free access to education to girls. Evidence has shown that reducing or eliminating the fees improves the enrollment of girls in Uganda. In addition to eliminating school fees, offering scholarships for higher education to girls will also encourage marginalized communities to allow their girls to finish school.
2. Reducing The Time & Distance To School
Besides affordability, there are other challenges involved that disallow girls from attending school. To make education possible for girls, we also need to make schools physically accessible for them.
Distance from the school is one of the important factors as it determines the safety of girl children. In many remote areas across the world, schools are still unavailable. This leaves no option for children but to travel kilometers on foot to reach school. This challenge is even harder in difficult terrains where children reach school by crossing a river or by climbing a mountain each day. Allowing girls to travel long distances is often not a preferable choice. Because of this parents often make their girl children drop out of school.
Countries like Cambodia, China, Egypt, and Morocco have experienced an increase in primary schools through construction projects in rural and disadvantaged areas. This proves that this challenge can be solved by ensuring schools within the communities so that the girls have the access to education near to where they live.
3. Making Schools Girls-Friendly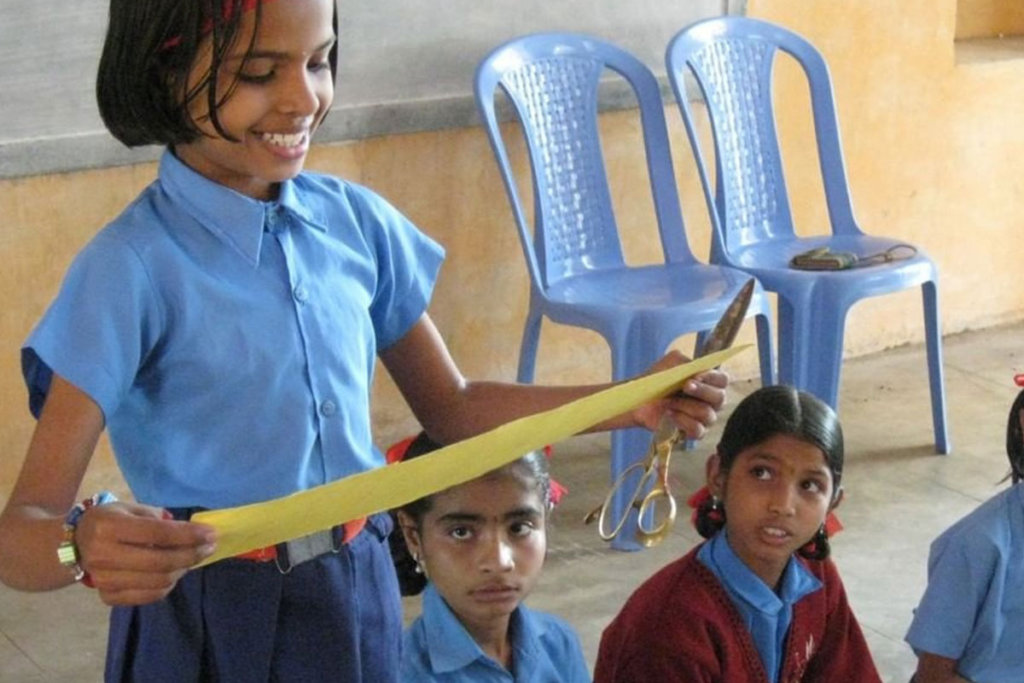 Do you know why the percentage of girls completing their secondary education is shrewd? Many girls drop out as soon as they hit puberty. One of the reasons that result in girls dropping out is the poor hygiene facilities at schools. Schools in rural areas often have basic infrastructures like water availability, sanitation, and hygiene missing, making girls miss classes during their periods and ultimately dropping out of school.
Many pieces of research on menstrual hygiene management have shown that providing a girl's friendly environment is the first necessary step towards increasing the possibilities of adolescent girls getting their 12 years of vital education. Another record was reported when a trial in Kenya demonstrated that sanitation improvements in schools reduced girls' absence in schools in Kenya.
Practitioners' experience also suggests that girls' enrollment rates may increase when schools are equipped with girl-friendly amenities and features. Building on UNICEF's child-friendly school framework, activists advocating for girl-friendly schools are demanding to transform the school culture into one that is not only gender-sensitive but also promotes parity in the enrollment of girls.
4. Importance of Community Engagement
Often girls experience cultural biases when they leave their community and go to school. This is the reason why there must be schools in the communities where girls live.
Community schools are often designed with the idea of holding a partnership between the school and the community that allows more parental involvement in the education system. Through community service and engagement, girls learn that they have the power to create lasting changes. When girls stay where they belong, they feel safer. Balochistan, a small province in Pakistan proved that parental involvement in small government schools supported "genderless" schools that simultaneously increase the enrollment of girls from backward areas.
5. Education Sustainability During Emergencies
In several parts of the world, conflicts and emergencies rob girls' Right to Education. Providing quality formal education that meets the needs of girls affected by humanitarian crises can help them survive the emergency in a better condition. In times of emergencies, an uncounted number of girls are uprooted from their homes and they suffer not just only the loss of their loved ones, but are also removed from school, and are at risk of violence and forced marriage. Hence, in times of conflicts and emergencies, girls of all ages are less likely to have access to quality education due to entrenched cultural, social, financial, and social barriers. 
To support marginalized girls' education during emergencies, we need to work on creating safe environments, improving data collection, and gathering political support for investing in girls' education. All the conflict-affected fragile states must be adopted for betterment by implementing the programs immediately following an emergency. 
One of the several organizations working to address these challenges is Educate Girls. It is helping in providing girls from marginalized communities their access to quality education. It not only works toward enrolling more girls in school but also ensures that girls complete their schooling.  
Strongly aligned with the 'Right to Education Act'​ of India​, Educate Girls is committed to the Government's vision to improve access to primary education for children, especially young girls. They aim to achieve behavioral, social, and economic transformation for all girls towards an India where all children have equal opportunities to access quality education. Their programs not only intend to impart the learning lessons but also equally focus on making learning fun and contextual for children.
They need every little support that they can gather. Support them to make a more equitable, safe, and empowered world for our girl children. Donate now!