8 Indian American Women Who Made It Big In The USA
Many Indian women have made a mark across the globe. Not only are they excelling in the fields they have chosen, but are also being recognized on international platforms for their work.
In today's blog, we will share about 8 of many famous Indian women in the USA, who have made a name for themselves in the past few decades. They have proved that if a girl is given an opportunity to choose for herself, they can achieve anything they set their mind to. From time and again, they have made everybody believe that women too can be torchbearers if not forced to be left behind.
1. SHEELA MURTHY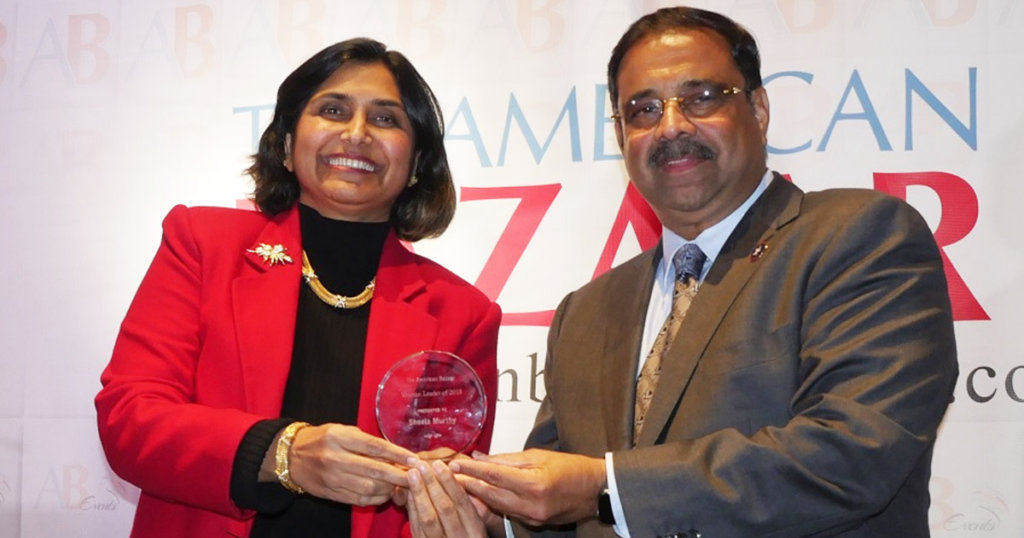 "After finding the courage to leave everyone and everything I knew, I am propelled as an immigrant to make the most of the opportunities before me" – Sheela Murthy
Sheela Murthy is a lawyer, philanthropist, entrepreneur, and speaker. She is best known as the Founder and the President of the Murthy Law Firm- one of the world's leading immigration law firms.
Sheela Murthy has completed her Masters of Law (LL.M.) from Harvard Law School and has been admitted to practice as an attorney in New York, Maryland, and the U.S. Supreme Court. Ms. Murthy is well regarded for her passion and enthusiasm, and she considers the opportunities for success in the United States to be fertile ground for anyone who has a vision, has the willingness to work hard, and is blessed with the right attitude. She is an inspiration for all the women who want to make a career for themselves in a challenging field like the law.
2. JAGRUTI PANWALA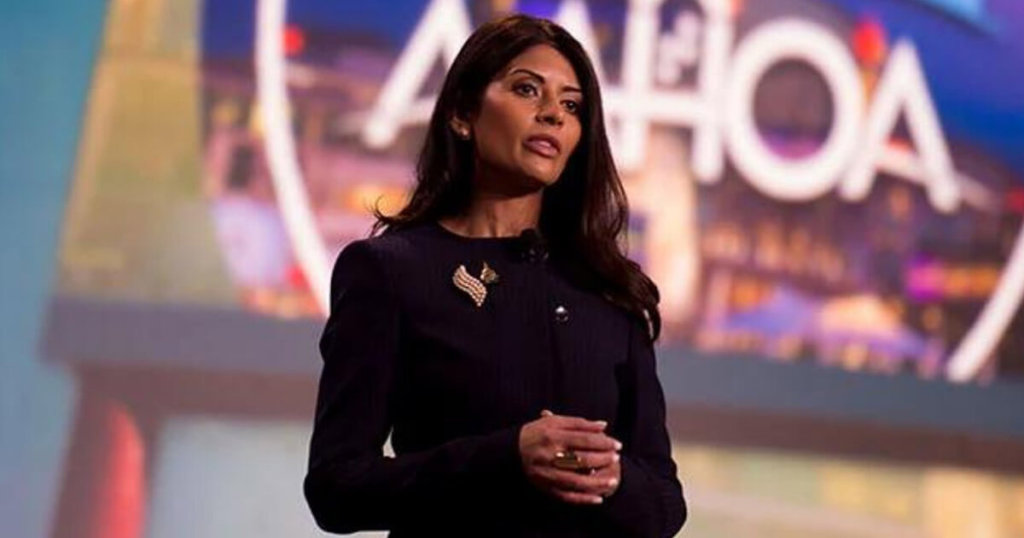 "Whether you are a boy or a girl, you have the opportunity in the world. So, never be afraid to work hard and follow your passion." – Jagruti Panwala
There are mystery women and then there are historical women. Jagruti Panwala is surely in the latter category. Her dedication to achieving a bright future was constant and she has been proving herself since the age of 22.
Panwala was offered an academic scholarship to attend East Stroudsburg University and she graduated with Honors in Finance and Economics. She is a first-generation hotelier who purchased her first independent hotel when she was 22.
Jagruti is the first woman to hold the Vice-Chairmanship of the influential trade group, Asian American Hotel Owners Association, and was also honored at the American Bazaar Women Entrepreneurs and Leaders Gala in 2018. She was one of the eight women leaders honored at the event, which was attended by dozens of prominent Indian American women entrepreneurs and leaders. She was also presented with the "Women Leader of The Year" award in 2019.
Besides, she also volunteers in the Indian American community where she has devoted herself to educating future generations on their heritage, language, and culture. Her journey encourages many women to excel in the fields of their choices.
3. ARUNA MILLER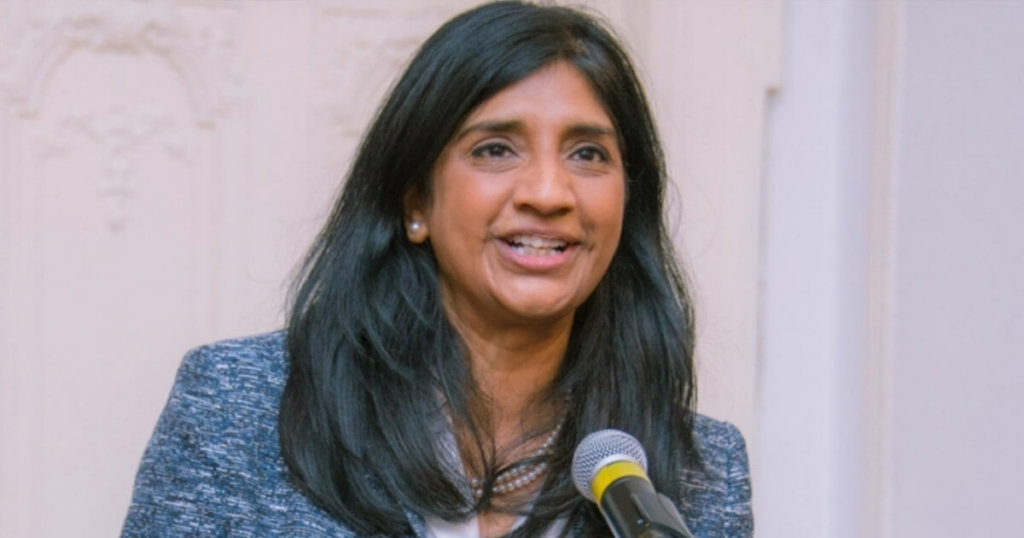 "As an immigrant, I want to forward all the incredible opportunities to all the aspiring kids and make sure that the doors are open for all!" – Aruna Miller
Aruna Miller is an Indian American Civil Engineer. She has worked for 25 years in Maryland to ease traffic congestion and improve public safety. Seeking to enter the house of representatives, she had filed nomination papers to run for the US Congress from a congressional seat in Maryland in 2018. When elected, the 53-year-old Hyderabad born was the second Indian American woman to enter the house from Washington State.
Miller is the breath of fresh air in the current, shifting political environment. She empowers women, men, and youth alike across the country and encourages them to be fearless and bold. She not only fights for those that are vulnerable but also motivates others, especially Indian Americans who are eager to participate actively. She is a woman who is encouraging several others to step up and have a voice of their own.
4. JAYSHREE ULLAL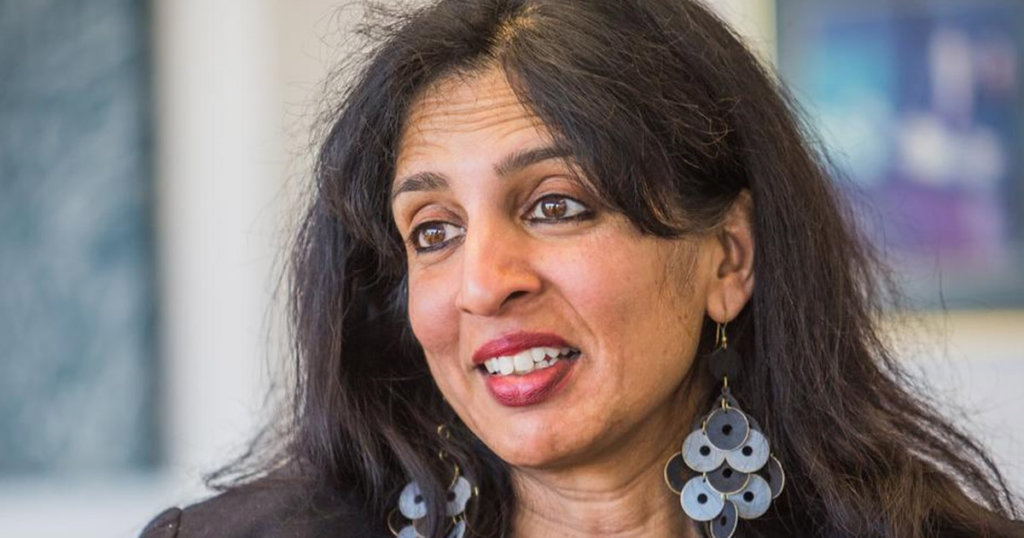 "You can be an entrepreneur and an executive. It all depends on your determination! – Jayshree Ullal"
Jayshree Ullal is an Indian American billionaire businesswoman, based in California who has carved her own path. Born in London and raised in India, Jayshree is a networking executive veteran. She has spent her whole life exceeding expectations. Ullal earned a degree in Electrical Engineering from San Francisco State University and started her career at Advanced Micro Devices before joining Crescendo Communications.
In 2008, she became the CEO and the President of cloud computing startup Arista Networks, a four-year-old company. In 2014, Jayshree successfully took Arista Networks to the IPO on the New York Stock Exchange. Ever since she is unstoppable. She is an inspiration who chooses to stop at nothing less than aimed.
5. ANJALI ANN RAMAKUMARAN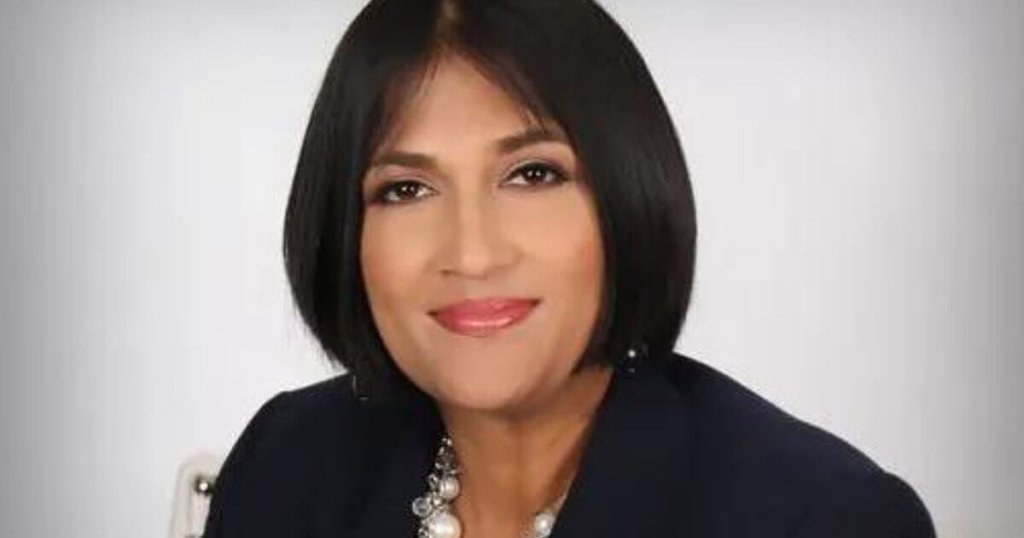 "Leadership is everything. It is about balancing the long-term vision with current reality, being eager to learn every day, and being open to new ideas and technologies. There is nothing in the world that females cannot do, all it requires is a push and courage!" – Anjali Ramakumaran
Anjali Ann Ramakumaran is the Founder and the CEO of Ampcus Inc. She is a technology-savvy entrepreneur who has devoted more than 18 years of her life to the design, development, and delivery of leading-edge technology solutions.
Under her leadership, Ampcus is cultivating into a fast-growing consulting and professional services firm. She has also been recognized as a top Asian American-owned business by the USPAACC for eight consecutive years- 2008 to 2016.
Having been brought up in India before moving to the United States for higher education, Anjali knows what it takes to climb the ladder of success bit by bit. Well aware of the challenges, Anjali always stresses the importance of role models and mentorship. Her advice to aspiring young women entrepreneurs is that it is important to stay focused, patient, and persistent. She believes that one needs to remain constant in their vision even in the face of adversity, as our passion leads to our success. This advice is a booster for all the girls who aim to be an entrepreneur in the future.
6. SUMAN RAGHUNATHAN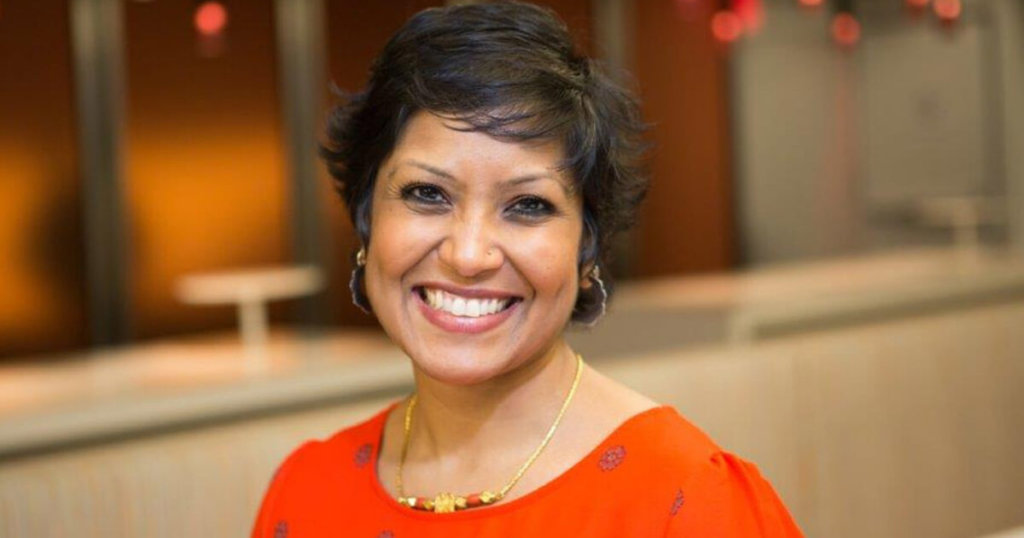 "Asian Girls have lots of potential which they have yet to discover. They all should look up to developed people and thrive every day to reach a grand level" – Suman Raghunathan
Suman Raghunathan is the Executive Director of the South Asian Americans Leading Together. There she leads SAALT's overall efforts to amplify diverse South Asian voices advocating for progressive change in the U.S. She is a passionate and seasoned immigrant rights advocate with extensive experience in the range of issues addressed by SAALT.
Through her work at organizations including the American Civil Liberties Union, Progressive States Network, and the Newyork Immigration Coalition, Suman has developed expertise in policy issues as well.
Suman has done her Bachelor's in International Relations from Brown University and a master's in Nonprofit Management from Milano, The New School for Management and Urban Policy. The daughter of Indian immigrants and the former Interim Executive Director of Chhaya Community Development Corporation, Suman now also serves on the board of directors at Chhaya Community. Her dedication and courage proved that nothing is impossible if you are determined to achieve it.
7. MADHULIKA GUHATHAKURTA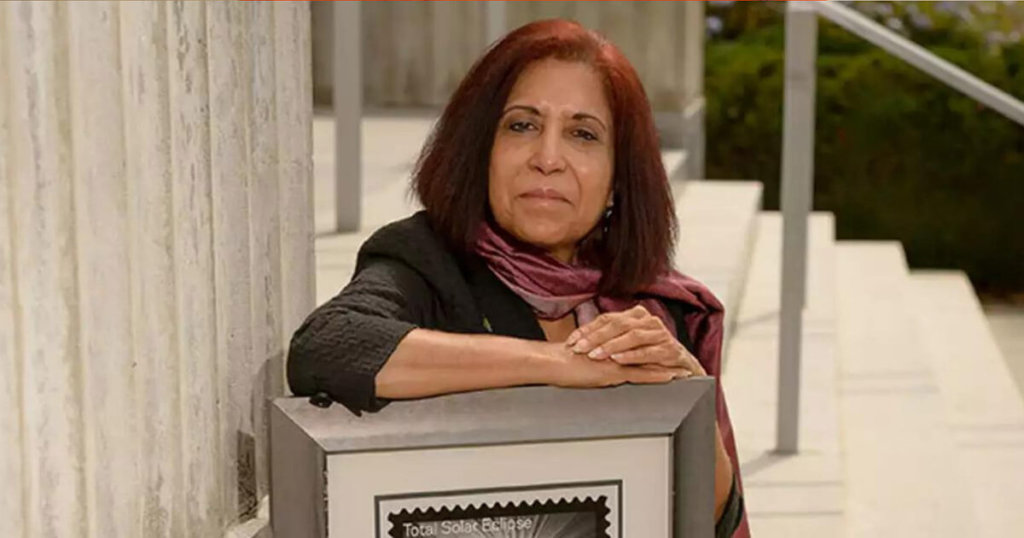 "Listen to your gut, follow your passion. Rest everything will fall before you so worry only about your success" – Madhulika Guhathakurta
Astrophysicist Madhulika Guhathakurta is one of the most prominent Indian Americans in NASA. There she has worked as a scientist, mission designer, instrument builder, directing and managing science programs, and teacher as a spokesperson. Currently, she is a lead program Scientist for the agency's "New Initiatives In The Exploration Technology Directorate" at AMES Research Center in Moffett Field, CA. In 2018, Madhulika was presented with the women leader of the year award at the American Bazaar Women Entrepreneurs and Leaders Gala.
Born in Kolkata and educated in Mumbai and Delhi before moving to the USA for Ph.D. in Physics from the University of Denver, she spoke to the ET on a range of topics, including the challenges in STEM education and some of the cutting-edge research. She wants all the girls to lead with passion and follow it doggedly. As Madhulika says, "Give it all you have!" Her message holds a lot of motivation for all the young girls who aspire to make a life for themselves.
8. KAMALA HARRIS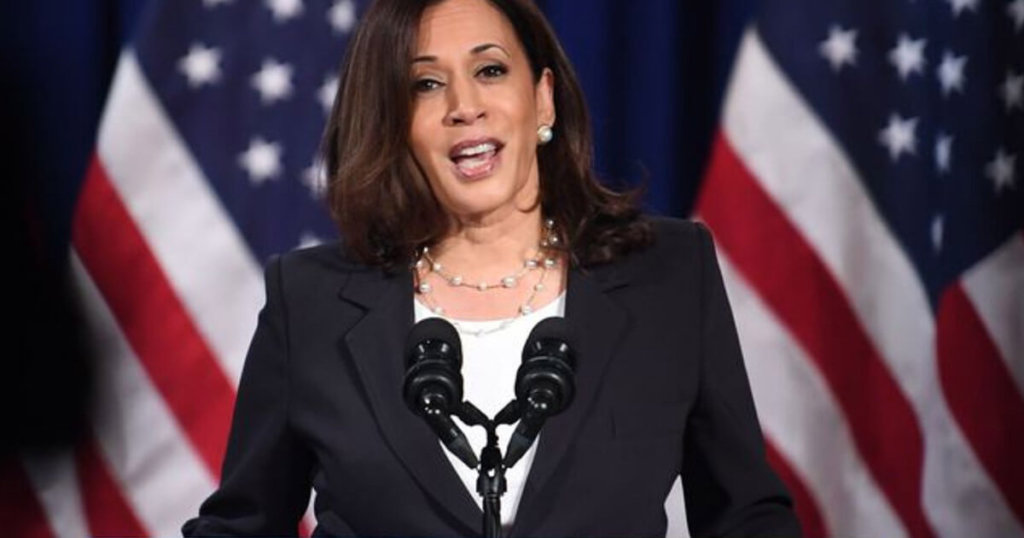 "My mother would look at me and say, Kamala, you may be the first to do so many things but make sure you are not the last. – Kamala Harris"
Kamala D. Harris is the Vice President of the United States of America. She got elected as the Vice President after a lifetime of public service, having been elected District Attorney of San Francisco, California Attorney General, and The United States Senator. She was born in Oakland to parents who migrated from India and Jamaica. She graduated from Harvard University and the University of California. Growing up she was surrounded by a diverse community and extended family.
With her ascension to the Vice Presidency, Ms. Harris has become the first woman and first woman of color to hold that office, a milestone for a nation in upheaval, with a damaging history of racial injustice exposed. Her role is still evolving and her word is gaining weight on issues like voting rights and immigration. Her motive is to keep the teachings of her mother in mind and help all the girls in discovering opportunities.
These women and their achievements encourage us to believe that education is the key for girls to excel in life. If the girls are given a fair chance at a quality education, any girl can lead the world.
This is what we aim to do at Educate Girls. By giving quality education access to the girls who belong to the marginalized communities of Madhya Pradesh, Uttar Pradesh, and Rajasthan in India, we aim to achieve economic and social transformation of not only girls but their communities as well.
To achieve our vision, we request all of you to come forward and support us to empower the girls from the underserved communities of India. Donate now to Educate Girls!