9 Reasons Why We Need To Ensure That #GirlsGoBackToSchool
Around 129 million girls around the globe were out of school even before COVID-19. This constitutes 32 million primary school-age girls, 30 million lower-secondary school-age girls, and 67 million upper-secondary school-age girls. UNESCO reports that more than 11 million may not return to classes after the pandemic.
Education empowers an individual to fight for their rights. It enables them to participate equally in the matters that affect them directly and raise their voice against injustice.
In India, 'Right to Education' mandates that every child in the age group of 9-14 years has the right to free and compulsory education. But our girls are often forced to leave school and choose a life of oppression and dependency.
By educating a girl child, we can help achieve 9 Sustainable Development Goals (SDGs)! These common global goals help achieve a better and more sustainable future for all. This means that for any kind of growth within our nations and beyond, we have to make sure that our #GirlsGoBackToSchool and exercise their right to education. We need a bold plan to bring all the stakeholders together and partner to ensure a meaningful future for our girls. Because educating a girl child not only means educating an individual, it means educating the whole generation to come.
Below we share 9 reasons why we need to ensure that #GirlsGoBackToSchool.
1. 4% REDUCTION IN CHILD MARRIAGES
Data shows that every year in India at least 1.5 million girl children under 18 get married. This means that India has the largest number of child brides. This evil in society gives birth to multiple other societal issues. Some of which are- poor maternal health, low mortality rates among newborns, the more economic burden on the families, etc.
Many researchers and educationists believe that education is the best way to prevent child marriages. The longer the girls are encouraged to stay in school and continue their studies, the longer they are safeguarded from this evil. If a girl child is allowed to opt for secondary education, the likelihood of them getting married is 6% points less for every additional year they stay in school.
Education empowers our girls to think for themselves and make their own decisions. This enables them to choose a better life where they not only participate in the economic growth of the country but also contribute towards a healthy nation.
Help Educate Girls to end child marriage and contribute towards #SDG5- Gender Equality. It not only aims to build an equitable world for every human being irrespective of their gender, but under Target 5.3, it also aims to "Eliminate all harmful practices, such as child, early and forced marriage and female genital mutilation".
2. 2 TIMES LESS LIKELY TO BE HIV+
According to UNAIDS (2005), 40 million+ people are living with HIV/AIDS across the world. This constitutes 2.3 million children under the age of 15.
Because of societal discrimination, our girls often become the victim of deadly diseases like HIV+. One of the evils that child marriage encourages is childhood pregnancy. Once a girl is married, she is expected to bear children while she herself is a child. This is one of the prevalent reasons for girls contracting HIV+ at an early age.
When #GirlsGoBackToSchool and continue their education, they are prevented from getting married at an early age which in turn reduces the adolescent pregnancy rates as well.
Education also exposes girls to the knowledge of safe sex and they are 3 times less likely to contract HIV/AIDS. They become aware of their own bodies and are in a better position to prioritize their health over sex. Also, education makes them open to the idea of seeking the right advice and healthcare if required.
3. CONTRIBUTE TO GLOBAL ECONOMIC GROWTH
Did you know that when 10% of girls in a particular country go to school, that country's GDP increases by an average of 3%?
Girls are often considered an economic burden. Especially in rural Uttar Pradesh, Madhya Pradesh, and Rajasthan, boys are preferred over girls because girls are never imagined to be someone who can contribute towards the household's income.
But the fact of the matter is that if given a chance, girls are more likely to contribute towards the economic betterment of their families. In the households where the money is controlled by the women, the spending of that household changes in a manner that benefits children more.
Even when an uneducated woman earns little by doing some labour, she puts 90% of her earnings back into her family. Comparatively, on average, a man utilizes only 30-40% of earnings for his family.
Now imagine what an educated woman can do! UNESCO shares that girls' wages later in life can go up by 20% by a single year of primary education. When our girls are educated, as women they earn better, and the economic condition of the whole household improves. This in turn contributes towards the total economic growth of the nation as well as the world.
This helps us achieve #SDG 8- Decent Work & Economic Growth and achieve sustained & inclusive economic growth, full and productive employment, and decent work for all.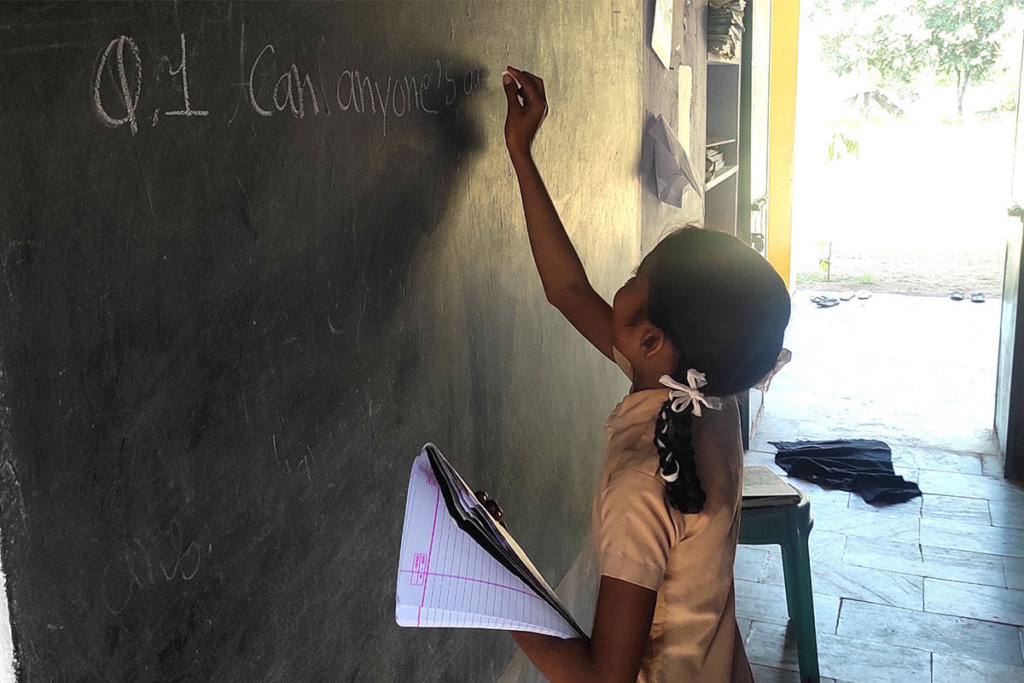 4. 2X MORE LIKELY TO EDUCATE HER CHILDREN
Napoleon Bonaparte once said, "Give me an educated mother, I shall promise you the birth of a civilized, educated nation".
A mother is the first influence on her children. An educated mother understands the value of education. They are more likely to raise a generation of children who are educated and who contribute towards a better world.
Her own education as a mother is also important because that helps her not only send her child to school but also enables a learning environment at home for the child to learn better. An educated mother encourages her child to improve and act as the most important teacher in their child's life, especially in the formative years.
This not only affects a child's formal learning but also helps them develop good habits. A mother also has a role to play when it comes to building a child's personal and emotional skills. Children pick and choose their hobbies and interests based on the exposure they get at an early age. An educated mother is more empowered to design those important experiences for her children and contribute towards her child's holistic growth.
5. REDUCE CLASS AND INCOME INEQUALITIES
The economic and social divide between the haves and the have-nots increases when all sections of the society are not given equal opportunities. The vicious circle of poverty and oppression breaks only when the next generation leads that change.
The Indian population constitutes 48.4% of females. When girls are given an equal chance to learn and earn, the likelihood of higher-income increases within the families. This not only lowers the poverty of the household but also helps bring a generational change in those families as educated women are more likely to encourage the education of their children. It's also the woman who invests back of her earnings back to her family, positively affecting the lives of all the family members.
A school is also a place that encourages equality. Children often never think about the economic status or class of another child while making friends. This helps break down the barriers of inequality, oppression, and class.
If we want to achieve #SDG10- Reduced Inequalities, we need to ensure that our #GirlsGOBackToSchool and access their right to education. If we dream of a world where every individual thrives, then we have to give our girls an equal chance.
6. BE MORE EMPOWERED
Women have always been considered as an inferior gender. Girls (and of course women) are considered weak and someone who needs protection. The only thing our girls ever needed from society has been their support. Support to have equal opportunities as boys, support to carve their own path, support to mutually build a better world.
Education is not just a means of earning better. Education enables our girls to know about their rights and empowers them to make a life of their own choice. Education makes them aware of the decisions that affect them the most and participate in the dialogue. From deciding when to get married to how many children to give birth to, an educated woman is more empowered to make a better life for herself and her family.
Empowerment comes from awareness and awareness comes from education. Education is the means to ensure that every girl child is empowered and ready to contribute towards a better world.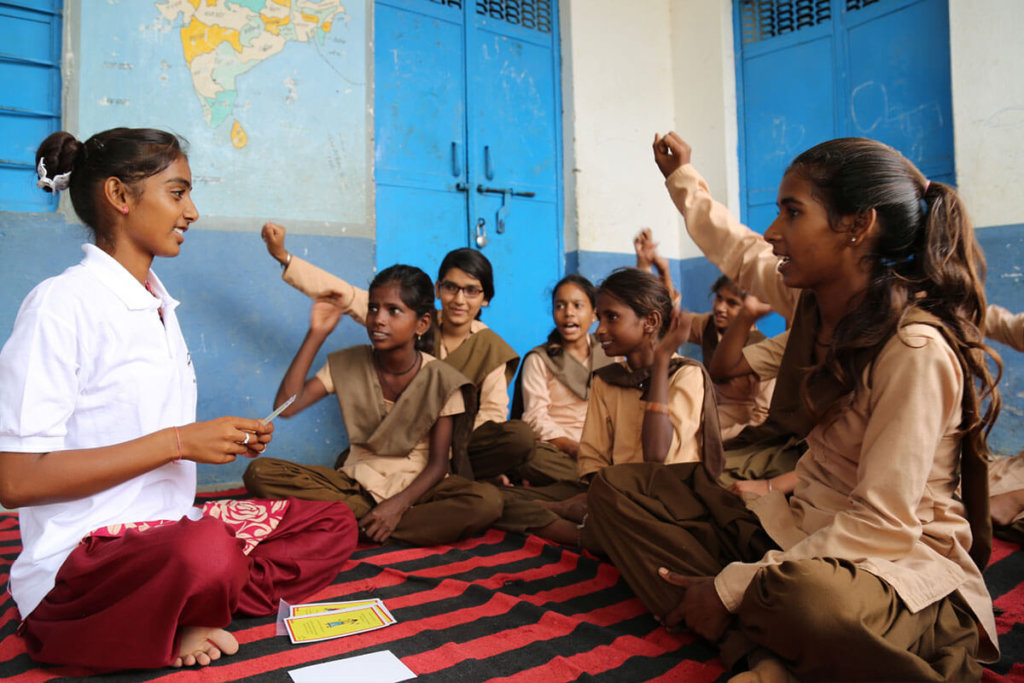 7. 50% MORE LIKELY TO IMMUNIZE HER CHILDREN
Where families live in poverty, a girl tends to eat last and eat least. This puts them at greater risk of suffering from diseases or malnutrition. Their health takes an irreversible toll when girls have to go without adequate food or clean water especially at the time of menstruation.
Educated girls are better aware of the healthcare facilities and systems present around them. Girl children who complete their education become aware of mothers who are in a position to take good care of their children.
An increase in maternal education leads to an increase in maternal health, better healthcare access, and vaccination. Educated mothers' children are twice as likely to survive beyond the age of 5. Hence, to achieve #SDG3- Good Health and Well Being, it is important that our #GirlsGoBackToSchool. Because only an educated woman can become a responsible mother.
8. FOSTER INNOVATION
Women are often considered weak to carry out some jobs. For example, the construction industry is largely dominated by men. Similarly, only 30% of the professionals in Sciences are women. In certain fields, women are also paid less than men for the same work.
Hence, it is important that our #GirlsGoBackToSchool and qualify at par with men for any kind of job. Science and innovation is directly related to knowledge. Such understanding can only be made when one is given a chance to study and explore possibilities.
Every child deserves schooling irrespective of their gender. It's high time that our girls are given their Right to Education and better learning opportunities.
9. REVERSE CLIMATE CHANGE
Girls contribute the least towards climate change but they are the most impacted by natural and man-made disasters. In times of any adversities, there is always an increased risk for girls in the form of violence and exploitation.
To tackle climate change, it's important to eradicate gender inequalities and empower our girls and women. This can be achieved only if we educate our girls and present them with equal opportunities. According to a report by CARE International, women who live below the poverty line are 14 times more likely to die in a climate disaster.
If #GirlsGoBackToSchool, they can help reverse the climate change in 2 ways:
The school will expose our girl children to the current climate issues and challenges. Being aware, they can raise awareness about this issue, protect themselves and others from the evils of changing climate.
Educated girls can tomorrow hold leadership positions, proving instrumental in introducing and reversing climate change.
Investing in a girl child's education transforms not just one household but the entire nation. To provide an equal opportunity to every girl child to continue their studies, Educate Girls runs the #GirlsGoBackToSchool campaign in the remotest parts of Uttar Pradesh, Madhya Pradesh, and Rajasthan in India.
Education for girls does not just mean access to schools. Hence, with a partnership with the Government, the community, and with the help of community volunteers (called Team Balika), Educate Girls has ensured higher enrolment and attendance for girls as well as improved learning outcomes for all children.
Strongly aligned with the 'Right to Education Act​ or the 'Samagra Siksha'​, Educate Girls is committed to the Government's vision to improve access to primary education for children, especially young girls. We aim to achieve behavioural, social, and economic transformation for all girls towards an India where all children have equal opportunities to access quality education. Our programs not only intend to impart the learning lessons but also equally focus on making learning fun and contextual for children.
We need every little support that we can gather. We invite you to be a part of our mission and help us make a more equitable, safe, and empowered world for our girl children.